In September 2001, I moved back to my home town of Fraser, Michigan, after a nearly 30 year absence. It brought back old memories.
One thing that struck me was the fact that so many of those memories will evaporate when I die. There is no one on earth who knows everything about my life who can pass the story on to my decendents. I have to admit I know very little about my grandparent's lives or those of my ancestors and unfortunately, probably never will.
Well, I have been playing with computers and the internet for a number of years, so I decided to do something about it. This is my biography in web form for my son and any of his children to remember me by. I also decided to leave out all the cute and fancy java scripts and animations so this page will accomplish what I want, to inform, not entertain or take forever loading. Well, I will try to entertain a bit with my stories and maybe a few cute web tricks I have learned over the years but mostly I want this place to be easy to navigate and to learn more about myself. My Mother, bless her heart, saved just about everything and anything written or photographed about me along with all my baby albums and scrapbooks so I have quite a bit of materials to work with, starting with the picture above. It's one of the first pictures taken of me when I was one month, two days old.
If you came here by mistake or found me thru a keyword and have no idea who I am, feel free to read my story. I remember someone on some TV show saying that you live beyond death by how many people remember your life. Please remember me well. What you will read and view here is picked from my memories and photographs, the good and the bad, baring it all. It may be boring but some of it may be interesting (no, I will not admit to hiding Jimmy Hoffa) so read as much as you can stand as I try to immortalize myself. This will be a work in progress, till I can remember no more, so visit often for any new stories or updates.
Thanks, Robert James Moats, Jr.
---
---
---
---
1949 - I was born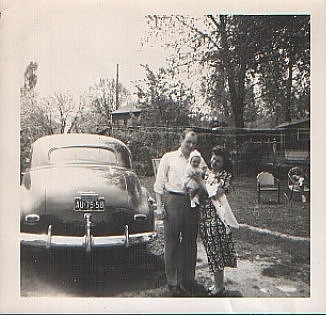 My first Mother's Day, May 1949

I was born at 2:25pm on Tuesday, March 8, 1949 at Cottage Hospital in Grosse Pointe Farms, Michigan as Robert James Moats Jr.
Doctor H. E. Malley delivered me and quoting my Mother from my baby book:
"Little Bobbie didn't cause his mother much trouble. Arrived at hospital at 12:00 noon and he was born at 2:25 pm. He is the very picture of his daddy."
My Mother is Reta Jean Moats (Wells) and my Dad is Robert James Moats. The attending nurse was Mary Dickerson and the nurse's aide was Evelyn Pageau. My first "home" was a lower flat on a street called Maxine, in St. Clair Shores, Michigan. I have no real memories of that place and we didn't live there long.
A little history, my parents met at the Jefferson Beach Roller Rink at the Jefferson Beach Amusement Park on Lake St. Clair in St. Clair Shores (torn down years ago to become a boat marina). My dad went into the Army shortly after and spent World War Two in Africa and Italy with the "Blue Devils" brigade also fondly called the Blue Patch Bastards by "Axis Annie". My dad safely returned from the war and married my Mom and I came along shortly after.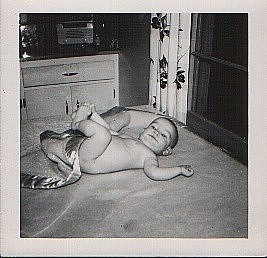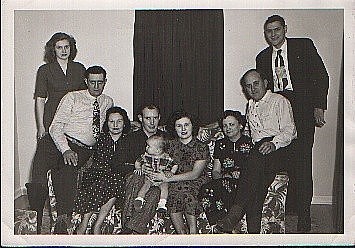 The picture on the right is the obligatory naked kid on a blanket taken at Grindstone City in my mother's sister's home July 12, 1949. The picture on the left is around my first birthday and the people are (Left to right): Beverly Scharmann (godparent), Leonard Gliwa (grandparent), Lillian Gliwa (grandparent), my Dad Bob Sr., ME, my Mom Reta, Gertrude Wells (grandparent), Aaron Wells (grandparent) and William Scharmann (godparent).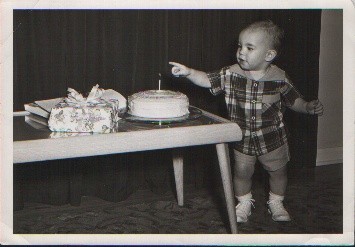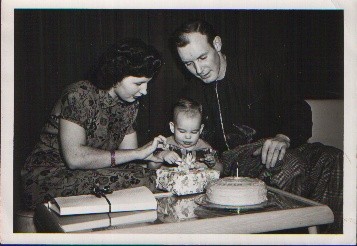 Photos of my first birthday. Me on the left playing with fire and with my parents on the right.
My first real home that I can recall was a house on Alger Street in St. Clair Shores, Michigan in the beginning of the 1950's. I don't have many memories of that place but there was a brother and sister living down the street named Kim and Shelly Woods who I played with. My brother, Michael Gregory Moats, was born while we were at that house and while we were at the hospital Kim managed to crawl through the milk shoot and dragged all my toys outside the house. We got back from the hospital with my new brother to find the toys all over the driveway.
The pictures below were of me with Mom and Dad on Alger.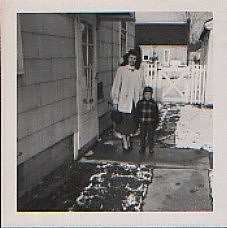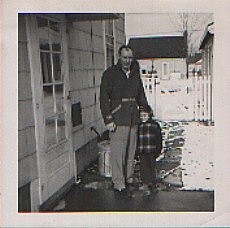 My parents lived on Alger before moving a few miles in the same city to a street named Share where we lived for about my next five or so years.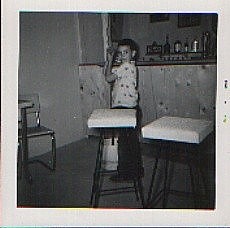 I do have more memories of the home on Share, it was in a new subdivision and my parents were one of the first to move on the block. There was a great storm drain (ditch) running behind the house that held a facination for me, it was a mystical place to wander even tho I was too young to be back there. My dad built a bar in the basement to entertain guests (picture at left of me by the bar) which provided me with a great place to hide and explore around.

Our neighbors on one side were a friendly family named Leshon (pictured right), George and Vera, and they had four children older than I, George Jr, Nancy, Valerie and Mike. One day, two of the siblings closest my age decided to cross a main highway (well, three lanes at the time) called Harper, to go to an old run down farm and they took me along without permission from my parents. I remember the aged and run down farm house formerly own by a man named Couchez and it looked haunted to me. Viewing the basement from a side door, was flooded and looked dangerous. We got back in time to find my parents were frantic about my absence and I caught hell for it.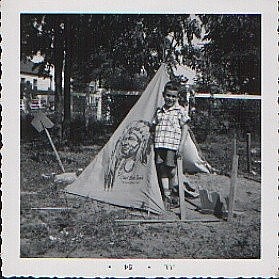 I fondly remember one halloween there and how I had to go out twice in the big subdivison because my parents ran out of candy and had to use my first bag full. Those were the days when your big concern was how much candy you got and not what dangerous things were in the candy. My mother assembled a Zorro costume for me and it was handy after halloween when I rode my bike, my steed, around the subdivision in full costume. At the corner of Share and Harper was a gas station and next to that was a vacant weedy lot. My friends and I would go down and pick up pieces of carboard we put there and try to catch the garder snakes that would rest there out of the sun. The lady who lived next door, Vera Leshon, wasn't fond of snakes and I always liked to show her my catches. One day when she was out in the backyard (backyard and me in right picture)., holding my brother, a grease fire started in her kitchen. She saw the flames from the back and we all had quite a day watching the firemen battle the small flame. My biggest accomplishment while living there was when I rode my bike on two wheels for the first time. My dad took the training wheels off at my request and held me up for a bit as I rode down the sidewalk. He let go, I coasted a bit then fell into the freshly seeded lawn of a neighbor. After I got up and got the mud off me I was a bicycle rider.
The house on Share, Mom in the kitchen and the famous basement bar.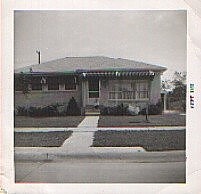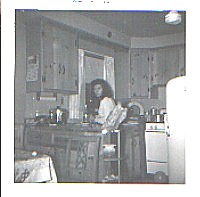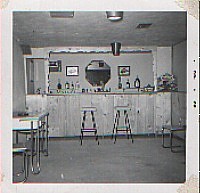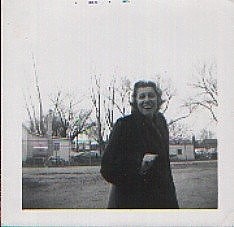 I went to various schools there and one teacher holds fond memories for me. She was my third grade teacher and her name was Elvira Hauslein (pictured on left) and in addition to being a teacher, later in life she was one of the first women pilots in NASA. She remains in my mind as a person who enjoyed life and when we went on numerous field trips and she would get into the spirit of them, such as dressing up in full fire fighting gear at the St. Clair Shores firehouse. I had my first crush on a girl in Miss Hauslein's class, her name was Denise Cole and the closest I got to kissing her was on her hand while a friend of mine and I went to visit her at her home one day. I think she couldn't stand me so, her loss.
The picture below is taken from a newspaper article about our trip to the St. Clair Shores city hall. Labeled are the then Mayor Thomas Welsh, Me, Miss Hauslein and Denise Cole, my first flame. Glad to see my memory hasn't failed me as I do remember many of the names of the kids in the picture.