---
---
---
---
1957 - My Early Fraser Years
the story continues...

While still living in St. Clair Shores, my parents had purchased a piece of property in a neighboring town called Fraser. It was exactly four square miles and it was, yes, perfectly square. The property had no home on it yet, my dad and my grandfather would supply that missing feature. My Grandfather owned Wells Custom Woodwork on Harper in St. Clair Shores and my dad worked there after he and Mom married. They were both skilled in working with wood so they struck out to build the basic structure of the house and sub-contracted the licensed parts, like plumbing and electrical.
I remember going to the property daily and watching the house slowly being built from the ground up. The property was on 14 Mile Road between Groesbeck Highway and Garfield Road and behind it was the Fraser Park complete with baseball diamonds. There was another drainage ditch like the one on Share Street and this one was located between the park and the new property to give me many days of continued exploring. It also provided a barrier to keep people in the park away from our home. It was kind of like my name in that it provided a "moat" around the house, well at least behind the house. After the House was built we finally moved in on November 26, 1957 and I staked claim to my bedroom, it was my new sanctuary.
The house in Fraser from the front and back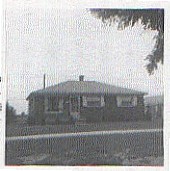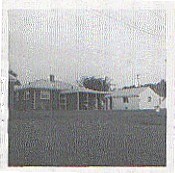 When I entered the third grade at Fraser Elementary in 1957, the school year had already started so I came in the after everyone else had been settled in. My teacher there was Mrs. F. Schneider. This particular elementary school at one time was the high school of Fraser where my dad attended many years before when he and my grandmother lived in Fraser. (NOTE: I'm presently living about two blocks from that elementary, now a campus branch of Macomb College).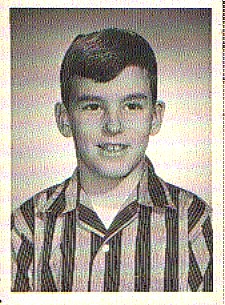 I was the new kid in town, so of course had to prove myself. We had the standard classroom show and tell, and I had purchased a deck of magic trick cards at a local drug store, Webb's Drugs, so I had practiced all the tricks in the book and performed a number of card tricks for the class. The show went well but little did I know this would set me up for a semi-profession later in my life. I also was a bit mischievious at that time, while sitting at my desk, bored, I had made up a sign saying "kick me" and taped it to the back of classmate Roland Hansen who sat in front of me and then kicked him while he sat in his chair. Needless to say I got in trouble for it.
I managed to get through third grade successfully and went on through fourth grade in 1958 with Mrs. B. Hatch as teacher and into fifth grade, 1959, with Mr, Morreale, my first male teacher. It was in the sixth grade, 1960, that discovered I had an interest for entertaining. I had written a short little play based on Charlie Chan, an old series of movies about an oriental detective, and I enlisted some of my friends to play the parts and performed it for the class. I, of course, played Charlie Chan. I also wrote and had my friends perform in a play based on the Three Stooges, it was the start of my playwriting career. I guess you could say the sixth grade was my renaissance period. During that time I had, in addition to the plays, developed many new hobbies, such as woodworking and model making, the plastic type, not the fashion kind. I had one teacher whose name was Mr. Greenwell who encouraged me to explore my talents.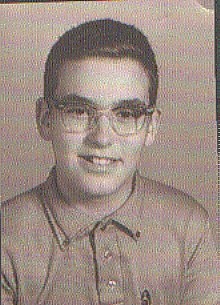 During this time we had an assembly at school in which a magician came to perform. I was lucky enough to be called up on stage to help him with one of his magic tricks. While I was up there I could see how the trick was done which fascinated me to the point that I got a book on magic and started playing around with small tricks. A short time after that the school had a talent show and I decided to enter as a magician. I had built all my magic equipment and practiced my craft and then I enlisted a friend by the name of Ricky Calomini to be my assistant. The show went well and for a about a month I was asked by many teachers to do my magic in their classes, I was suddenly a celebrity. After the novelty wore off I only played with the magic mostly for family gatherings but didn't do much more with it till late in high school, more on that later.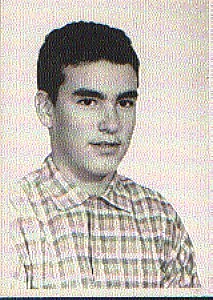 I had two teachers in sixth grade, Mr. Greenwell again, but it was the other teacher who I should mention who encouraged to me to use my brain, Mr. Olsen. I was having problems with English or some subject and he kept pointing out that I should use logic and reason to work out my problems. Plus he always beat me at checkers, a game he enjoyed playing. I remember him as this very tall balding man who always wore suspenders. I successfully passed sixth grade and managed to get through seventh in 1961 without incident and I ended up with Mr. Olsen again along with Mrs. Lickman and Mr. Arrons. Seven and eighth grade were considered my junior high school years, altho they were spent still in the elementary school since Fraser had no Junior high. More on that and high school in the next chapter.
Each summer around the early 60's my family would get together with their friends they've know from childhood and go on vacation together. The one place that holds memories for me is Otsego Lake in the northern part of lower Michigan. It was there I got my first crush of love in August 1960.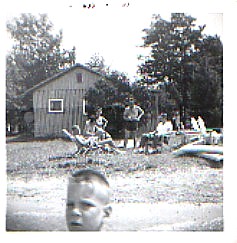 Her name was Sherry and I first saw her on the beach practicing a line dance with two other girls. I was just 11 years old and felt my first pang of love for someone I had just seen, a strange feeling. I met her cousin, Patrick Garvey, who's parents owned the cabin they all were staying at and made friends with him. I played the silly puppy love stuff and towards the end of the week I wrote a note that Pat passed on to her at a bonfire. She turned to me and uttered the most heart crushing derogitory remark that any naive 11 year old could understand and I went away in flames. The week ended without further incident and my family headed back to home. The most annoying thing after I got back was that the music group, The Four Seasons, came out with the song "Sherry" which didn't help me to forget the whole thing and I carried a torch for her for a very long while. (A picture is on the right of the beach and, in the background, Simpson's Cabins where we stayed.)>